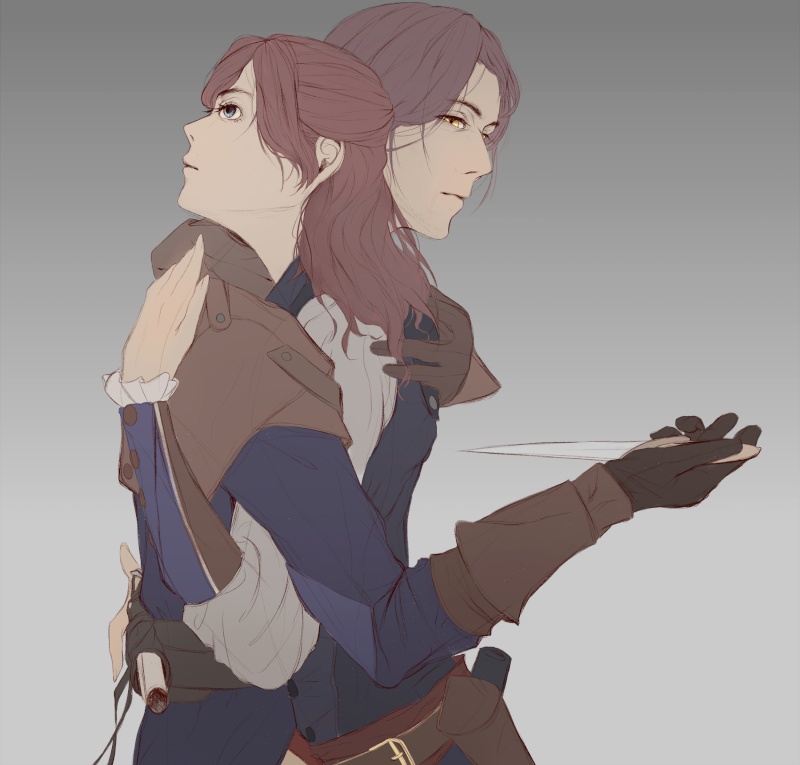 Name: Gerard Bel
Age: 22
Affiliation: Templar
Appearance: -[ Gerard's face ]-
Spoiler:
Gerard is a young adult, with unkempt brown hair, and gray eyes. His face is rather sharp in features, with his eyes standing out in particular. He is slightly taller than most men his age; standing at 6'1". For being an agent of the Templar Order he is strangely non threatening in appearance as he is quite skinny and lanky and though he is a Templar his outfit is more akin to that of an Assassin as his outfits usually include a hood.
Personality: Cocky and arrogant to a point, Gerard is a young Templar agent who carries out stealth oriented missions; rarely caught in the act and has lead him to become overconfident in his abilities to blend. He has a strong sense of personal justice and will follow his own path. Gerard has fun with his work and will usually get to know his targets before killing them, gaining their trust and befriending them in some cases taking his work very personally. Though he may work for an order that strives for peace, Gerard doesn't truly believe that it will ever be possible and is merely on the side he believes will be able to benefit him most.
Favorite Weapons: Hidden Blade | Tranquilizer Dart | Wakizashi
Strengths:
Stealth -[ Gerard is praised for his ability to hide in plain sight, able to change and adapt to situations quickly and remain anonymous. ]-
Intelligence -[ Gerard is able to plan out his moves sometimes weeks in advance and change those plans on the fly if need be, making him extremely difficult to outwit in a situation as he has already thought of all the possibilities that were laid before him. ]-
Speed -[ Gerard spent his youth free running around the city of Paris and was not only able to build up endurance but also his swiftness, able to outrun many of the city's guard. ]-
Weaknesses:
Physically Weak -[ Gerard is considerably thinner than most others and therefore suffers when in a fair fight and resorts to dirty tricks ]-
Emotionally unstable -[ Often Gerard will become attached to the targets he must eliminate, he has killed those he considered friends and lovers but at the cost of his sanity. ]-
Background/Biography: Gerard's background is a little unknown to most historians but he played a key part in aiding the Templar order but also in harming it, he was born an Assassin though around the age of twelve his father had abandoned the Creed and joined the Templars. He had already been trained from the age of six to be an Assassin and then had also been trained as a Templar. Gerard was inducted into the Templar order officially at the age of seventeen, and his first mission was to infiltrate a Ball in Paris where it was reported that an Assassin was stalking one of their comrades. The Templar Order exploited Gerard's eagle vision so that he may be able to find the target faster than even their experienced agents.
Upon finding his target at the Ball he was shocked to find the person he was meant to eliminate was a girl Assassin around his age, though she was older. Gerard growing up was a sucker for an elegant woman, and she certainly played the part well, it was obvious how she was never detected as an Assassin, she blended quite well. But Gerard knew his part in the play and he was meant to kill her, though he could never really bring himself to actually carry the act out. He spent the evening with her and could feel a connection growing between the two of them; that was until she asked him why he had come here tonight, asking him about how he knew who she was. She'd figured out his original intentions but she refused to listen when Gerard attempted to explain how he no longer wished to carry out this order. Soon after that the girl attempted to escape from Gerard who quickly chased her to calm her down, he didn't want her to bring attention to herself, he wasn't sure who could be watching. When he finally found her, she'd been laying in the middle of the Ballroom floor collapsed. Gerard rushed over to check her body and found a poison dart shot into her neck; he felt betrayed by his Order for not trusting him to complete his mission and also stealing his friend and possible love interest away.
When Gerard turned twenty years old he was assigned to help out the Templars in the West Indies and the Americas. His journey took a year by boat and he has been doing research of the land and its significant figures and rulers since he arrived.