Name: Edward Benjamin Grey
Age: 29
Affiliation: Pirate
Appearance: Long, dark brown hair, either in a ponytail or set loose, dark blue eyes, rough features, scar running down left cheek down to jaw, a silver ring dangling from his right ear. Tall, muscular body, various tattoos on his arms, chest, and back, along with many scars.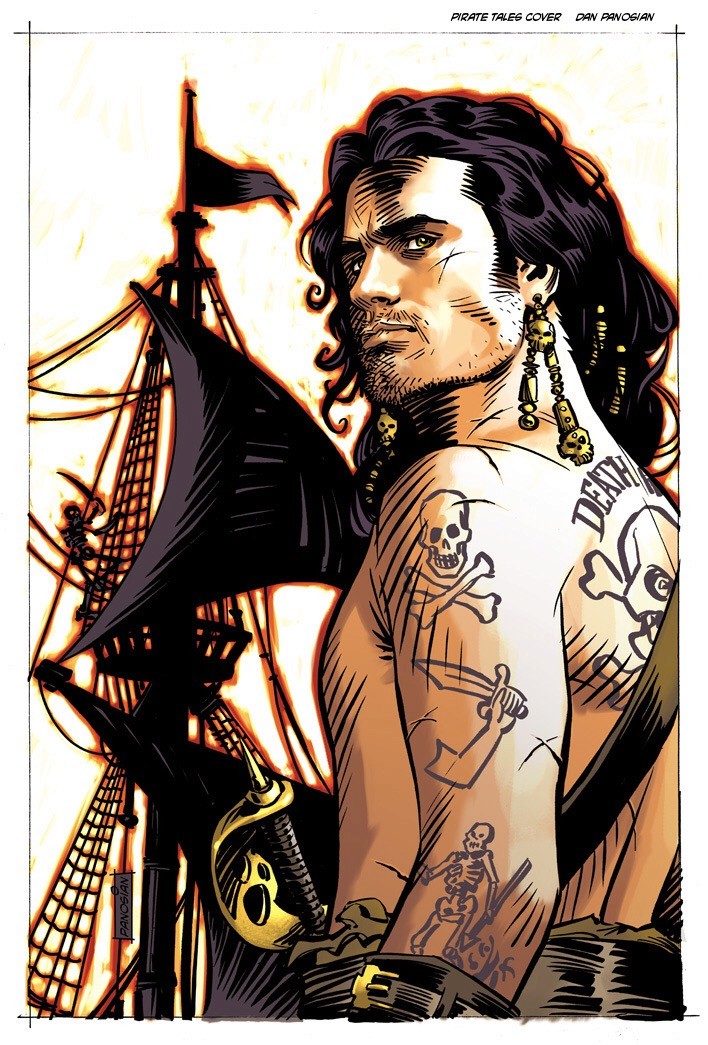 Personality: Edward can come across as cocky and likes getting into trouble. A soft one for gold, rum, and women. Very friendly unless you tick him off, makes friends easily.
Favorite Weapons: Dual cutlasses, dual flintlocks.
Strengths: Physically strong, great eye, fingers like fishhooks, very charismatic, charming, can drink about five mugs of rum whilst staying sober.
Weaknesses: Aggravated easily, cocky, often gets into trouble, soft spot for gold, will do anything a woman tells him, terrible with a pistol.
Background/Biography: Edward was born on a plantation on the coast of England. He would look out at the ocean and watch ships come and go, longing to join them. He would dream about the sea, about joining the Royal Navy and becoming a captain. When he was 18 he enlisted to be a privateer. He sailed aboard a modest frigate under the command of a rather nasty captain. His life of crime began when he and the rest of the crew mutinied. Now under the command of his best friend, Edward became his first mate. The crew pillaged and plundered, and life on the ocean was great. After a few years, Edward decided that it was time for him to part ways. He bought a brig and named it "The Dawn" to represent the dawn of his captaincy. Bringing 20 men along with him, Edward sailed for Nassau, the pirate republic of the West Indies. It was there that he first met Sam Thorne, his first mate. They quickly built up a reputation and became officially wanted by the Spanish and the English. Edward developed a thirst for gold, and became obsessed with becoming the richest pirate in the West Indies. This is what pushed Sam into leaving the crew. Edward, angry at first, told him that if he didn't get back to the ship that instant, he would gut him right then and there. Sam, knowing of Edward's anger outbursts, ignored him. Edward became so infuriated that he pulled out his pistol and fired at Sam. Luckily, Edward was a terrible shot. Sam quickly alerted the guards and forced Edward to make a hasty escape. Edward quickly found a replacement, a woman by the name of Anne James, who wanted to prove her worth. Edward quickly grew fond of her, and had finally found something he loved more than riches. She, too,  found him funny and charming. After a year of sailing together, they made plans to get married and retire theyr'e life of piracy. A month before the wedding, however, Anne became sick and died. Edward was devastated. He held a grand funeral fitting for a king on The Dawn. Edwardfell into a state of depression and began to drink in order to numb his feelings. He eventually built up an immunity to alcohol and would dock and drink for days. Edward finally got over his loss and started sailing again. He became friendly towards others, but still had a thirst for gold.