Name: Ruby Allen
Age: 20
Affiliation: Assassin
Appearance: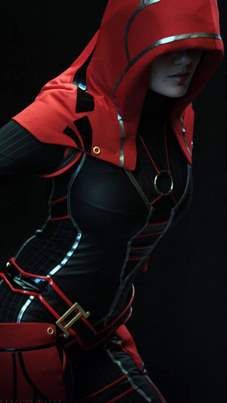 Ruby is 5'5 and got short, brown hair dyed in bloody red at the bottom. Her eyes are fine and a deep brown, almost black. Sometimes, we can mistake them to be red, as her clothes always reflects on them. People are pretty sure they are red at first look!
Personality: Ruby is a curious one, but she keeps to the Tenets and believes in the Creed. When she get angry, it's often really bad to see. But most of the time, she is calm and smiley. She likes to stay late at night, if it's for mission and to relax on the top of buildings. But even with her looks, she's not the party kind! She hates being trapped on parties if it's with people she doesn't know. If she can relate to people and talk to them, she feels better about it.
Favorite Weapons: She uses her hidden blade most of the time, but she also likes to use heavy guns when she can use ones. She is also pretty good with any sort of blades if they can easily fit in her hand.
Strengths: She is quick and quiet, but also can use of her looks to make people hear her: she can drag people into her bewitchment and then permit to other Assassins to continue the mission while the attention is dragged on her. She can also run fast and parkour really well.
Weaknesses: She can get angry really quick. If someone's bothering her or the ones she cares about, she gets violent and takes time to recover to her normal attitude. She can easily be blinded by anger and feelings. She is also really stubborn when it comes to something personal, even if it's related to the Guild.
Background/Biography: Ruby was born in a family made of her stepsister as only sister. Her mother was a carrying woman and her father, she got no memory of him. He was gone for longer that she could remember. She and her sister went to the same elementary school and secondary. They then went to different colleges. It's at the last day of secondary that Ruby entered the Guild.
It was during the prom night, when she was alone outside while her sister was flirting with a bunch of different guys. Starting to get sick of it, she walked alone until she heard screaming. Surprised, she followed the sound and find out one of her friends that was trying to get rid of a guy, who, probably completely drunk, was trying to force her into unpleasant things. Ruby quickly took off her high heels and, moved by adrenaline, jumped on the guy. They started fighting long enough for the friend to run away to call for help. Ruby was thrown on the floor when the boy tried to hit her one last time. Quick enough, she gave him the biggest highkick she had ever done in her whole life. The boy fell on the floor as she got up, her red dress completely stripped into parts. She was about to leave when she heard claps behind her. When she turned to the sound, a hooded man was standing there before he gave her a hand. She never forgot that moment. Quick after, she entered the Creed.
Her sister moved to another city when they entered college, but Ruby never was alone: every night, she went to train with the Creed. She now is complete part of the Brotherhood.