-Name: Hannah Zakharova
-Age: 21
-Affiliation: Free Agent
-Appearance:
Hannah is of both French and Russian descent, and has soft auburn curls that tumble down to the middle of her back. Her stormy eyes are a nondescript shade of blue-gray, and they are framed with thick, dark lashes. Hannah has sharp cheekbones that are softened by a petite, sloped nose and pouty lips. Hannah stands at a height of 5'4", and has an athletic build with just enough curves to give her an hourglass waist.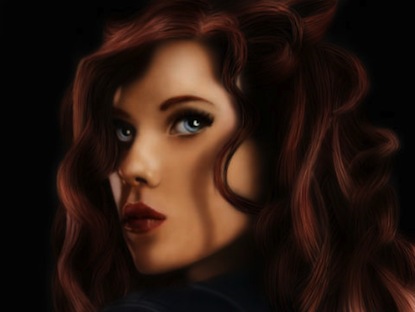 -Personality:
Hannah is stoic and serious when on a job, but always takes the the opportunity to make a joke if she needs to lighten the mood. Hannah's tongue is as sharp as a blade when it comes to her wit and comebacks; she won't hesitate to snap back a retort. She smiles easily, but tends to keep to herself often because she believes that sometimes, caring is not an advantage. Hannah usually acts older than her age, but once in a while, she lets go for a little bit and relaxes.
-Favorite Weapons:
Hannah tends to favor a silenced pistol and and a set of throwing knives.
-Strengths:
1.) Has a natural sense of balance and is stealthy
2.) Even though she hates it, Hannah can be very manipulative and deceiving to get what she needs/wants
3.)Hannah is very strong-willed and determined, and doesn't take to giving up well.
-Weaknesses:
1.)She can be extremely stubborn and persistent.
2.) Often second-guesses herself in compromising situations
3.) Isn't very strong with hand-to-hand combat. She can handle herself, but prefers to keep a distance.
Background/Biography:
Hannah was raised by her mother, Mary, in New York City. All of her life, her mother had taught her survival instincts, like how to fight and use logic in dangerous situations. Hannah had always thought this to be normal, until she began going over to her friends' houses and found out that their free time consisted of watching TV and playing with their hair. When she was young, she didn't want to be taunted as a 'freak' because of what Mary was teaching her, so she never told anybody what she did.
When Hannah turned 14, Mary decided to tell her about their family history. Mary was a retired intelligence agent with the CIA, and the reason why she was training Hannah was so that her daughter could follow in her footsteps. As a matter of fact, Hannah was named after one of her ancestors who seemed to belong to an organization of sorts. They were named assassins, and followed a creed. They were fighting against a Templar Order, who were another organization with a set of beliefs and priorities. The assassins saw the Templars as evil tyrants, but Hannah felt some of their priorities were just and reasonable. When Hannah asked her mother if she belonged to either side, her mother said no. She didn't want to be bound to an organization.
With this knowledge under her belt, Hannah felt obliged to continue her training, and she did. By the time Hannah was seventeen, Hannah had dropped out of high school and gotten her GED. She was hired to do small missions, as long as she agreed with the reasoning behind them. She never sought out the assassins or the Templars, for she didn't want to feel constricted by them. She wanted to be free in her actions and judgements, without anyone telling her otherwise. Hannah remained mostly neutral to both affiliations, but didn't like carrying out missions that compromised her loyalty to either of them.
By her current age of 21, Hannah was a capable agent with a good skill set under her belt. She currently travels around looking for her next job and continues to further her skills.