Name: Obi Yakuba (referred to as Yakuba)
Age: 27
Affiliation: Assassin
Appearance: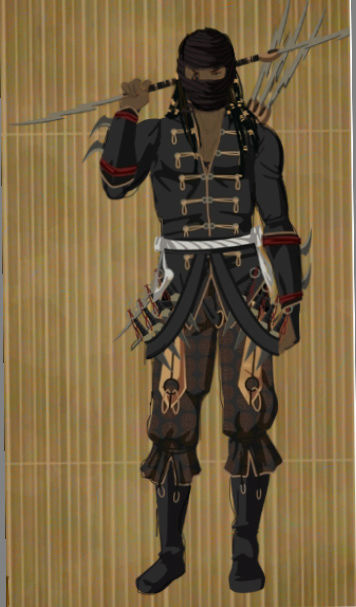 He has a very deep, soothing voice, thick with an Ivorian accent. 6'1", 200 pounds.
Personality:
Very calm and collected. He acts modestly, and doesn't aggravate quickly, but is witty all the rest. As you will learn in his bio, he is more assassin than pirate, but often questions the phrase "Everything is permitted". For the most part, he acts more as a consultant rather than a leader, but can be very assertive if he feels strongly about the subject.
Favorite Weapons:
1) His double-sided harpoons.
2)Hidden blades
3)Throwing daggers.
Strengths:
1) Yakuba has been conditioned his whole life to be extremely resilient, and therefore hold a great deal of physical strength within his body, both mentally and physically.
2)Despite his size and strength, Yakuba is extremely agile. This was a developed skill as a result of his lack of long-range capability, but serves him well in climbing(as assassins deem a necessary skill).
3) His harpoons are an extremely unorthodox weapon to have, and most standard officers have a hard time going up against them. They can also be thrown in a projectile like matter, and Yakuba holds fours of them.
Weaknesses: Both physical and psychological (ex: easily aggravated as a psychological trait)
1) Long distance. Because of his background, he never got around to gaining proficiency with guns. Though he usually makes up for this with his speed and agility, it can be a problem against a competent marksman.
2)He gives off a very hostile persona, mainly from his size and dress. Plus, he is often discriminated for his color, which makes casual disguise a little harder for him than for most. Being an assassin, his stealth skills are sufficient to overcome this, but it does limit his usefulness.
Background/Biography:
Obi Yakuba grew up in a native tribe along the coast of modern day Ivory Coast. Being so close to the water, he was naturally able to advance himself navally, but also, his people were the natural target for the Spanish ships that that took him and a handful of his tribe at the age of 17, to the Caribbean. From there, he spent eight years as a slave to a small sugar cane plantation, before him and his older brother liberated the group in a planned riot, armed with nothing but farm tools. Yakuba lost his brother in the process, and during his time as a running convict, fell into the brotherhood. He was from then on trained as part of the Creed, and at the age of 26, freed himself by threatening his old owner. He carries his freedom papers with him at all times.
(Let me know if there are any changes wished to be made. Yes, the bio is somewhat short, but the background story itself isn't that complicated.)