Name:
Luminita Wolfbane
Age:
1679
Affiliation:
Free Agent
Appearance: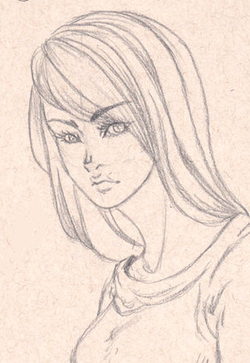 Diamond shaped face, thick long black hair with brown highlights that goes down to her ass. Her eyes are dark brown with flecks of gold which give her eye the appearance of a deep golden eye. Her nose is thin and up turned with bow lips. Most men go for her immediately.
Personality:
Calm, collected, protective of children, Strong willed
Favorite Weapons:
Her Claws, A short sword,
Strengths:
Brave, Un trusting, Calculating.
Weaknesses:
She may loose control of herself if someone harms a child. An allergy to silver, Un trusting
Background/Biography:
Luminita Wolfbane was born in the year 36 AD as the second child of the first werewolf. When she was two months old her mother was killed before her very eyes. She was almost killed as well but her older brother and her father showed up just in time to save her.
As she grew she learned everything she needed to survive.. she found a mate and they were married… Sadly it was not meant to be… Hunters attacked when her pack was small and killed her husband and children in front of her. This made her fly into a rage and she destroyed the hunters but that didn't save her children… they were still gone and so was the love of her life…
She has never re-married and only has friends with benefits.  She has become cold and distant but also very protective of the children in her pack. She would do anything for her pack even die for them.
((Clayst approved this character for all timelines))