Name:
Bryan Waverley
Codename: The Shark
Age:
27
Affiliation:
Templar Pirate
Appearance:
Bryan stands at around 6'0" and weighs in at about 150lbs. He has long, dark brown hair that is often pulled back into a loose ponytail at the base of his skull. While out on missions, Bryan is often seen wearing a facemask and a hood to better hide his face from his enemies. It also provides a clever disguise as an Assassin when it is needed.
He's often seen wearing pirate clothing as well as a ring with the Templar's Red Cross burned into it.
Personality:
Bryan is as fierce as they come, his attitude most resembling the Great White Shark, the animal from where his Codename originated. Most who have crossed his path call him "The Demon of the Sea," for when he attacks, he attacks swiftly and without mercy. When he speaks, it's always with a low rumble, like that from an oncoming storm, though he sometimes distorts his own voice to keep it from being recognized. Some consider him an extremely dangerous man, as he will often not hesitate to kill.
Favorite Weapons:
Twin broadswords strapped to his back
Twin pistols, one on each hip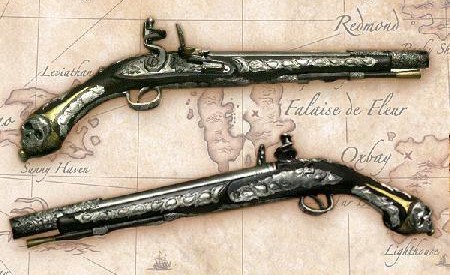 Strengths:
Bryan is a master of surprise attacks and stealth.
He's getting better at using his twin pistols, but he's not completely unskilled with them.
Weaknesses: Both physical and psychological (ex: easily aggravated as a psychological trait)
There's nothing physically wrong with him, at least nothing that can be seen. What can't be seen, though, is that his shoulder was once dislocated and it gets aggravated every once in awhile, mostly during bad storms.
He's scarred emotionally and mentally by the death of his father and half his father's crew. More often than not, most nights he relives the traumatic experience of that night and can often hear the screams of the men that died.
Background/Biography:
Unlike most of the rumors that have run around, Waverley was born to a Templar. His father had trained him for most of his life, since he was five despite the fact that he never knew his father had been a Templar. Instead, he grew up on the seas.
Around the time he would have been initiated into the Templar Order to be trained properly, his father's ship,
The Titan
, was attacked and burned by true, vicious Pirates. Bryan and about half his father's crew were the only survivors of the attack. He had been rescued by a true Templar and, the instant he was better, was taken to the Templar home of Havana, where he was trained and his skills sharpened to a razor point.
Every chance he got from the time he earned his place as one of the best Templars in the Order, he would take small jobs. Most of them included getting information or killing the odd Assassin. One day, he'd been sent to the Market in the Keys of Florida for something and had nearly been killed by an Assassin had it not been for the Assassin's apprentice, two years younger than he was. The only damage Bryan had sustained from the attack was a scar across his lip, created by the arrow that had been meant for his heart.
About a month after that incident, Bryan took a rather dangerous mission that had him down in Inagua. It was there that his shoulder was dislocated in an ugly fight that left him incapacitated. He was found by Templars of the Order and taken back to Havana to heal.
Upon his nineteenth birthday, Grand Master Torres gave him a ship of his own that bore a resemblance to his father's ship,
The Titan
. He later found out from Torres himself that the ship was, in fact, his father's vessel's twin. There had been two ships created in the same likeness and this was the other one. For a moment, Bryan was tempted to name the ship after that of his father but soon decided against it.
After all, there had only been one
Titan
and she had been destroyed. So instead, he called the ship
The Demon Shark
.
Bryan's story will be up in Free Write
.