Name:
Shane Dawson
Age:
27
Affiliation:
Pirate
Appearance: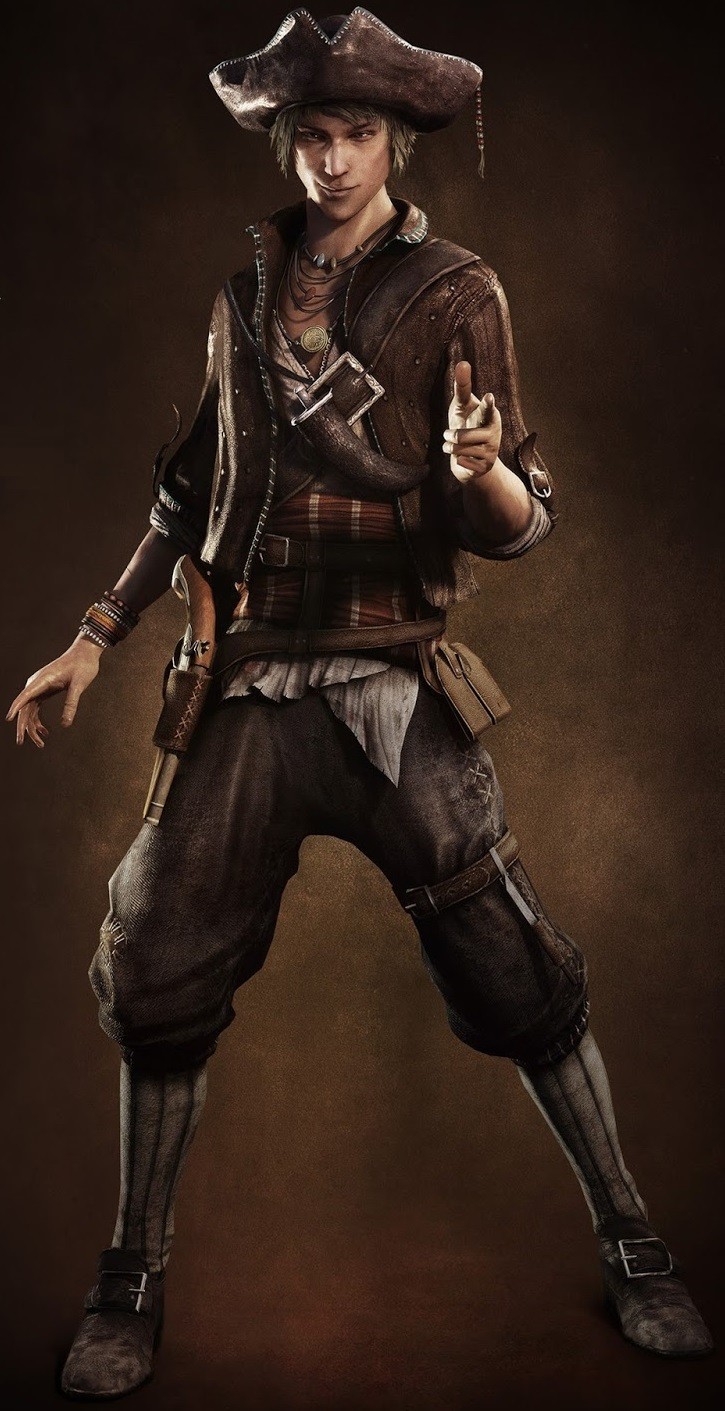 Personality:
Shane is a lazy, perpetual drunk. He only cares for himself, and is only concerned about where the next drink will come from. He has a soft heart, and has had a crush on his captain, Elizabeth Shay, from the moment he met her; most will say he's just lusting after her. Shane spends his life at the tavern, with a woman of comfort at his side; on a good day, there'll be more than a few women at his side. He is a very charming young man, and easily woos the ladies into submission, with the exception of Elizabeth Shay. He is a joker, a madman, and truly insane. One of his catchphrases is, "It's all good fun until someone gets hurt, then it's hilarious." Shane has a good sense of humour, and is quite possibly one of the most lively men you will ever meet.
Favorite Weapons:
- Anything sharp and pointy
- Anything that goes boom
- His fists
- A dagger named "Liz"; after his insane captain
Strengths:
- With his youthful and innocent face, Shane can find his way out of almost any mess he lands up in.
- Being perpetually drunk, people tend to underestimate his abilities during a fight.
- One of the few pirates that can still sail a ship and fight while highly intoxicated.
Weaknesses:
- Shane has a serious problem with alcohol. During a battle, Shane will put the welfare of the liquor before that of his fellow crewmembers.
- It is near impossible for Shane to take anything seriously. He treats life like a joke.
- He is a joker, a madman, and completely insane. This has led to him making careless mistakes that have had devastating consequences, for others.
Background/Biography:
Shane Dawson was born to a prostitute of Nassau. His mother cared for him until he was five years of age before finally telling him to get lost. He wandered around the streets of Nassau, living off of scraps and leftovers thrown out at the tavern. He eventually took to stealing whatever he wanted, and became an alcoholic at the age of thirteen. When he was fourteen, he joined a pirate crew, and sailed the West-indies. He proved to be quite an asset to the crew, and fought savagely during battle. At the age of twenty-one, Shane found himself back at Nassau, unemployed. He took to pickpocketing once again, and would often sneak onto ships where he would diminish their supply of rum. He was one of first men who joined Elizabeth's crew when he was at the age of twenty-two, and enjoyed serving under her. It was not long after they first met before Shane developed feelings for his captain; he wanted to be with her both romantically, and sexually.
(But he would consider just settling for sexual relations with her)
When the
Tiger Shark
returned to Nassau, Shane was more than happy to spend his time at the tavern with the others. Shane challenged Rackham to a drinking challenge, and was not surprised that he had emerged victorious. One day, Shane was so drunk, he ended up on the wrong ship, and was subsequently marooned on a deserted island.