- Name Hannah Le Henaff
- Age: 20
- Affiliation: Free Lancer
- Appearance: Hannah has ashen blonde wavy hair that tumbles down to her lower back. Her stormy eyes are a nondescript shade of blue-gray, and they are framed with thick, dark lashes. Her complexion is light, and she has high cheekbones and a small sloped nose. She has a 3" scar on her left temple near her eyebrow, and her heart-shaped lips are a full, petal pink color. Standing at around 5'5", she has an athletic but slender build. Hannah's French accent is very faint, but it becomes more prominent when she is drunk or mad.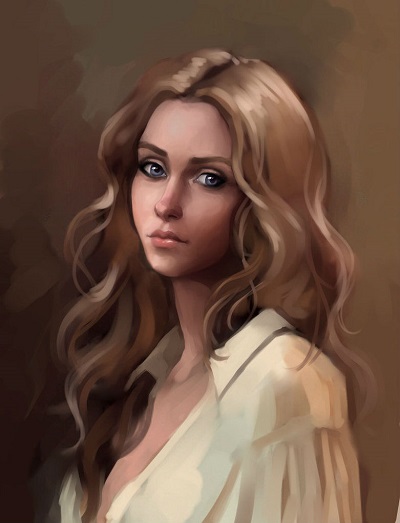 - Personality: Hannah is a calm person, who laughs easily. She knows that her lifestyle is dangerous, and therefore tries to make the best of it, knowing that any day could be her last. Usually, Hannah is quick to retort and has a tongue as sharp as a blade. However, when she becomes focused on a set task, she becomes more stoic and aggressive.
- Favorite Weapon: Cutlass and berserk darts.
- Strengths:
1.) Free running is her best trait, due to her natural sense of balance.
2.) She can use her gender as an asset to deceive men, and then deceive/kill them.
3.) Hannah is very strong-willed, and doesn't take to giving up well. She likes to fully carry out whatever mission she's been bestowed with; she doesn't half-ass anything.
- Weaknesses:
1.) Severely lacks patience, sometimes has a high temper
2.) Cannot fire a musket to save her life
3.) Isn't very strong due to her small form, and often relies on speed.
- Background:
Hannah was born in France, and raised there until she was 13 by her father, Augustus, and her mother, Celine. The family had been settled there comfortably until her mother had fallen ill, and passed away. This affected Augustus greatly, and, in a storm of foolish thinking and sorrow, began drinking and gambling. For about seven months his life was a blur as one night blended into the next, sometimes not coming home for a few days. When he did, the stench of ale and brandy tainted his presence. Hannah had practically raised herself up until Augustus seemingly had an awakening, and decided to whip himself back into shape.
Deciding that there were better things in store for them, Augustus bought a merchant's schooner and set sail for the seas with his daughter in tow. He quickly formed a crew and learned the business of trading goods and supplies, passing everything he learned unto his daughter and upgrading his ship along the way. By the time she was 16, Hannah could fully control the ship and its crew with complete understanding.  
However, being a merchant frigate had its drawbacks. Augustus' cargo often drew a lot of unwanted attention from pirates and other merchants, and he had to fight back often. When Hannah was 18,the ship was overtaken by a crowd of pirates and they were robbed clean, and the ship was salvaged so that they would sink. Hannah's dad, as well as half the crew, had either died while the pirates boarded or while the ship sank. Hannah was lucky, and managed to drift ashore Great Inagua. There, she befriended many groups of sailors and privateers, and sailed alongside them. For a time, she had been a part of a pirate crew by dressing as a man, but after a few narrow escapes from death, Hannah returned back to Great Inagua.
Now, she simply goes with the flow of things, sometimes joining the crew of a merchant's ship, sometimes working in a tavern, and sometimes stealing from warehouses. Hannah is no stranger to killing and plundering; she understands the concept of a pleasurable and enjoyable life, no matter the consequences.