Name:
Ember  "Grim/Harley" Shay
Age:
20
Affiliation:
Assassin
Appearance: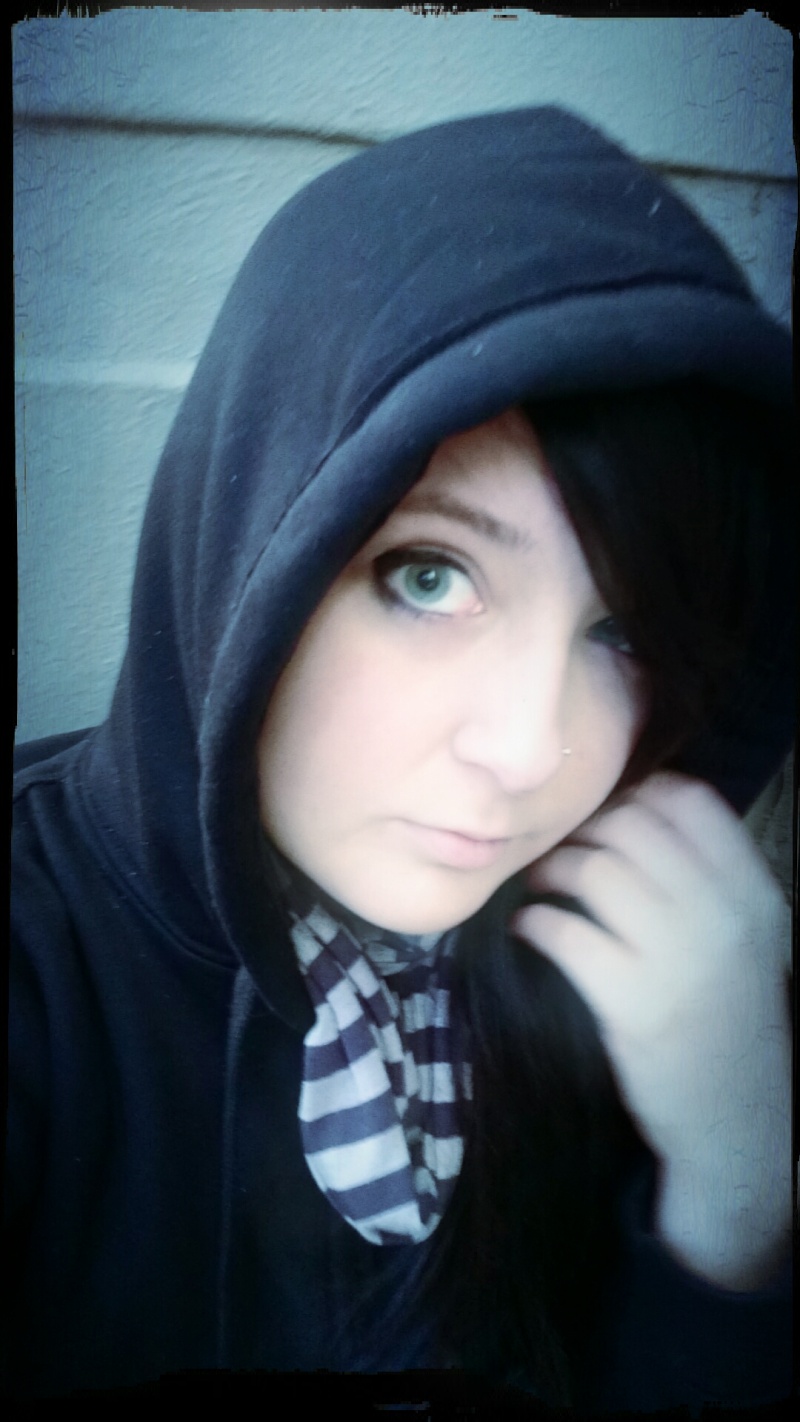 " />
Ember is a tall (1.6m) and slender woman, her small frame allows her to slip through gates with ease. She has black hair and bright blue eyes, just like all her female ancestors. She normally wears a black gamer hoodie around the headquarters, but during missions, she wears her black assassin's robes styled after a few video-game characters. Ember was in a bike accident at the age of sixteen leaving her with a huge scar on her ankle. She has a tattoo of her ancestor's emblem close to her right hip, a tattoo of a sparrow on the inside of her left wrist, and an anchor tattooed on her right foot. She also has two sets of earrings, a piercing on the pinna of her right ear (she claims it accentuates her naturally elf-like ears), a nose ring, and a belly-ring.
Personality:
Ember is a loner, while she does have friends, she prefers to keep to herself. She enjoys smoking weed, sniffing poppers, and doing lighter-gas. She also smokes switch cigarettes, and enjoys drinking her rum; she claims to be a connoisseur when it comes to tobacco, rum, coffee, and cigars. She is quiet but she will speak her mind if she is provided a good enough reason. Although she is morbidly depressed, she makes sure that her fellow assassins are always in high spirits. When she is around friends, Ember becomes the exact opposite. She is almost constantly laughing, and enjoying life to the full. Couple this with her insanity, and time spent in Bethlem Royal Hospital for the mentally ill, she gained the nickname 'Harley' after Harley Quinn. She has a strict training schedule because, to her, honour is everything.
Favourite Weapons:
- Hidden blades
- Crossbow
- Katana
- Lee enfield rifle
Strengths:
- Ember is highly intelligent; her IQ is well over 130. She studied coding and used her knowledge to infiltrate Templar websites as well as their networks and bank accounts.
- She is a quick thinker and an exceptionally good liar. She always thinks five steps ahead and she always knows how to turn the odds in her favour.
- Due to her hatred towards humans, Ember has excelled in the art of assassination.
Weaknesses:
- Being ADHD, Ember cannot focus for long periods of time. Training her was a nightmare until the Assassins learned the key to Ember's training lay within videogames and the Animus.
- She has a grim outlook on life, which is how she earned the nickname "Grim". The Assassins constantly need to monitor her as she has threatened to commit suicide before.
- Ember has a knee condition that flares up every so often. Her knees grow extremely weak and she will collapse if she does not sit down or bend her knees; she calls those actions her "Reset button".
- Ember openly smokes weed when around her friends.
Background/Biography:
Ember was born into the Assassin Brotherhood, just not the way she would have liked. Ember Shay was born on a dark winter night at the headquarters of the British Assassins, her mother died shortly after childbirth. Her mother was an Assassin, but the Assassins refused to tell her who her father was.
The Assassins raised Ember as their own and trained her from the age of five. They would not let Ember leave the headquarters without an escort, but they were relieved to find that Ember expressed little to no interest with the outside world; only the Animus, training, and videogames. After she had reached the rank of Master Assassin, at the age of eighteen, she was allowed to come and go as she pleased, without an escort.
She tried to find out why both the Assassins and the Templars expressed such an interest in her, the Assassins never gave her an answer, and the Templars she killed always took the secret to their grave. One night, she hacked into the Assassin archives in search of answers. It was there that she found out her father's identity, he was the Grand Master of the British rite of the Templar Order.
Ember found it strange, during her time in the Animus, she had learnt how the Assassins hated or distrusted Elizabeth Shay simply because her father was a Templar. Why then was it different with her? When Ember approached her Mentor, he told her it was because they had come to accept the Shay women and their Templar ties.
When Ember was 18, she was part of a group of 13 Assassins sent to a precursor temple to perform an investigation. Something went horribly wrong, and the temple collapsed around them. Only Ember and an Assassin by the name of Marco survived the incident. After the incident, Ember and Marco were hospitalised for depression. The two eventually turned to drugs and alcohol as a way to briefly escape the memories of the incident.
After some time, Ember traveled the world, helping Assassins that needed her. She always takes her bearded dragon, Zuko, with her wherever she goes.