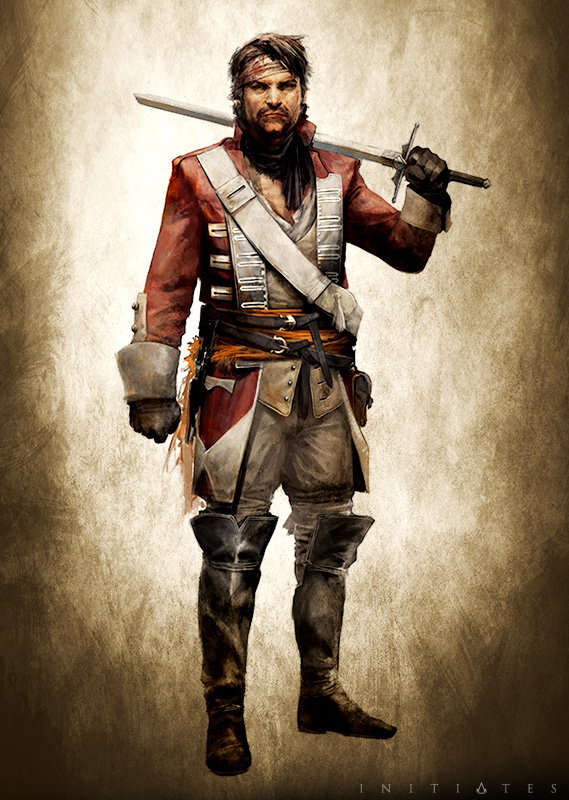 Name: Captain Craig Jonathan "Gentleman Jack" Barclay
Age: 28
Affiliation: Pirate
Appearance: Around 5'11", with dark brown hair and eyes. He is of an average, leaning towards muscled, build. He wears a red coat with white linings over a regular linen shirt with matching vest, plain white trousers, black boots, and a faded orange sash that holds his scabbard, some pouches, and a holster.
Personality: A quiet, calm man with a dry sense of humor. He insists that his crew members are his equals, and takes their advice to heart often, much to his quartermaster's chagrin. He openly despises both the English Crown and slavery, and interjects his opinion into related conversations often. He adores the "freedom fighters" that he works with, A.K.A. pirates.
Favorite Weapons: Blades of most sorts, and boarding axes if there are no swords available. He keeps a pistol on him, but it gets little use.
Strengths:
-Swordplay. He was trained, and has great experience in its practical use.
-Freerunning. He's been testing his balance through it since he was a child. (Almost, but not equal to the skill of the Assassins)
-Diving. He and his crew check through shipwrecks for what they hope is (and usually isn't) lost treasure. It's like the lottery, really. Addiction is not to be taken lightly.
Weaknesses:
-He's not to sure how to go about this "ranged" concept, and misses often when using guns. (Ship's weapons don't count in this case)
-Like any good Scotsman, he has a never-ending hate for the English Crown. English pirates...he tolerates. And makes faces at when he thinks they don't notice. (They do notice. Just let him have this.)
Background: Barclay was born and raised in Scotland, before joining the British Navy at age 18. He was stationed as a guard on the sloop
Vigilance
. Two years later, his ship had sailed to the Caribbean, and Barclay began to see firsthand the cruelty and apathy that the British Navy possessed. It wasn't until he had the misfortune to meet an English slaver that Barclay decided that he was through with the Navy. Surprisingly, he would find similar sentiments within the crew. Barclay and the crew overthrew the captain and voted him in as the new captain. He re-christianed the sloop to
Revolution
at age 23. After a vote amongst the crew, it was decided that a pirate's life was for them. For the next five years, the
Revolution
terrorized the seas from the Florida Keys to Jamaica. Barclay, age 27, had eventually caught word of a "Pirate's Republic" starting on Nassau, run by none other than Blackbeard, Charles Vane, and Benjamin Hornigold themselves! The
Revolution
now dedicates itself to defending the last safe haven of pirates, where every man is equal, and the monarchies are not welcome...